Words: Anthony Hansen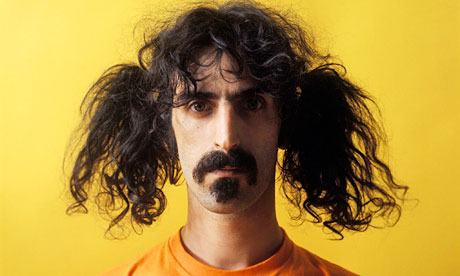 There are few discographies as intimidating as Frank Zappa's. The man released something like 63 albums in his lifetime and approved at least six more for release shortly before his death (a couple of which still remain in the vaults). Add to that the fact that Zappa didn't fall into any kind of stylistic rut for more than few years at a time (at most), and you get a man whose work is exceptionally hard to pin down. And yet, for however many different musical phases he went through, his work is almost always immediately recognizable.
Contrary to what many people believe, Zappa's influences are obvious – it's just that very few people thought to combine doo-wop vocal harmonies and blues-inspired guitarwork with the compositional techniques of Edgar Varèse (and, to a lesser extent, Igor Stravinsky). This doesn't even account for the deeply cynical world view that informed his lyrics, his affection for various strains of jazz, and his brief but regrettable dalliance with reggae in the '80s.
Simply put, this was a man crazy enough to make a career out of breaking as many rules as he could, but only because he was smart enough to have learned all the rules in the first place. Without further ado, here it is: 10 Frank Zappa Albums You Ought To Own (And What To Pick Up Next If You Like Them).
—
1. Freak Out! (1966)
Though it was always clear who was running the show, Zappa began his career as part of the Mothers Of Invention, a calculatedly outrageous group of musical trouble-makers who subverted/perverted whatever cultural norms they could get their grubby little mitts on. Though a certain amount of attitude wasn't uncommon in rock music at the time, The Mothers may have been the first group to turn that kind of attitude against the music itself, effectively making them the first truly post-modern rock band.
On this album you'll find scathing political diatribes ("Trouble Every Day"), flippant anti-love songs ("Go Cry On Somebody Else's Shoulder"), catchy pop songs ruined by deliberately stupid lyrics ("Wowie Zowie") and the most hellish take on barbershop quartet harmonies ever conceived ("It Can't Happen Here"). How revolutionary was it? Put it this way: when The Beatles were making Sgt. Pepper's Lonely Hearts Club Band, Paul McCartney referred to it as "our Freak Out!"

HERE, START WITH THIS: "Hungry Freaks Daddy"
What to get next: We're Only In It For The Money, which condenses all the best aspects of Freak Out! into an airtight tight 39 minutes – and gets in a few famously nasty jabs at the hippie subculture The Mothers unwittingly helped create.
—
2. Hot Rats (1969)
The one Zappa album even most non-Zappa fans can enjoy. Musically, this is his most serious, straightforward, and pleasingly melodic foray into jazz music, showing a focus and sophistication that wasn't always evident in The Mothers' brand of scabrous satire.
For this album he wisely jettisoned his former backing band (save for multi-instrumentalist Ian Underwood) in favor of a rotating cast of jazz and blues luminaries that included Shuggie Otis, Sugar Cane Harris, Jean-Luc Ponty and his childhood friend Don Van Vliet, a.k.a. Captain Beefheart (on the album's one vocal cut, "Willie The Pimp"). Still, Zappa more than holds his own in such esteemed company, and the result is an album that stands as a landmark in both jazz and rock.
HERE, START WITH THIS: "Peaches en Regalia"
What to get next: Waka/Jawaka and The Grand Wazoo, Zappa's return to fusion after a questionable foray into vaudevillian comedy rock.
—
3. Weasels Ripped My Flesh (1969)
Of course, there's something to be said for pure musical anarchy, and no Zappa album is as proudly abrasive, undisciplined and all-over-the-place as Weasels Ripped My Flesh, the original Mothers' swan song. Compiled from various live improvs and studio outtakes (much like its predecessor, the far more subdued Burnt Weeny Sandwich), this is the album where Zappa's affection for free-jazz luminaries like Albert Ayler, Eric Dolphy and Rahsaan Roland Kirk really shines through.
Along the way, we also get a couple of absolutely smoking blues numbers ("Directly From My Heart To You", "My Guitar Wants To Kill Your Mama"), a bona fide We're Only In It For The Money outtake ("Oh No"), and the title track, an impenetrable wall of noise that sums up the irreverent, confrontational tone of the album perfectly. All that and what may be Zappa's best-ever album cover, to boot.
HERE, START WITH THIS: "Eric Dolphy Memorial Barbecue"
What to get next: The aforementioned Burnt Weeny Sandwich provides a glimpse at the Mothers' more "serious" side and features some of the most exquisite compositions in the Zappa catalogue. If that sounds like a more appealing prospect than the jarring, discordant mess of Weasels, you may want save the flesh-razing for another day and grab yerself a tasty Sandwich.
—
4. Chunga's Revenge (1970)
The closest Zappa ever came to a "normal" hard rock album, and it's a monster. What's worth noting right off the bat is that it's not just "normal" in its musical straightforwardness (a good portion of these songs are essentially just blues jams), but structurally as well. Where all Zappa's albums up to this point had some kind overarching/underlying concept or theme trying their songs together, Chunga's Revenge sounds more like a quick snapshot of whatever was running through Frank's mind (or setlist) at the time.
So you get a Hot Rats outtake here ("Twenty Small Cigars"), an all-over-the-place live improv there ("The Nancy And Mary Music") a fake drum solo thrown in for no apparent reason ("The Clap"), and a wonderful R&B number to top it all off ("Sharleena").
This album also marks the first appearance of Flo and Eddie, two former Turtles who would act as Zappa's main singers/sleazy comedic foils for the following two years. The next couple of albums would show what a pain in the ass they could be when given free rein over the music, but it's hard to imagine any other singers pulling off a song like "Tell Me You Love Me" with such dick-swinging conviction.
HERE, START WITH THIS: "The Clap"
What to get next: Most critics would steer you away from this era of Zappa entirely, but I have an inexplicable soft spot for Just Another Band From L.A. I'm in the minority, though, so caveat empor.
—
5. Apostrophe (') (1974)
Having gotten a couple of fine instrumental albums out of his system, Zappa returned to more conventional pop songwriting, though "conventional" is always a relative term in the Zappa universe. Not only was he still cramming in as many complicated musical twists as he could, he was also incorporating his more recent jazz-fusion influences, as well as some very pronounced funk-rock elements.
The first album to display this change in style was Over-Nite Sensation, but Apostrophe is (arguably) even better. Yes, the dog wee-wee jokes are stupid, but the music is so full of intriguing twists and turns, lightning-speed instrumental interplay and rock-solid melodies that Frank could have been singing from a phone book and this would still be one of his better albums.
Luckily, some of the wordplay is among his most clever (even when the subject matter is eye-rollingly inane) and he even makes room for a kick-ass jam with ex-Cream bassist Jack Bruce on the title track. Speaking of which, the dirtiest joke on the album is the title – what do YOU think an apostrophe between two brackets is supposed to look like?
HERE, START WITH THIS:"Don't Eat The Yellow Snow"
What to get next: The aforementioned Over-Nite Sensation contains some of Zappa's best songs, not to mention his filthiest. Apostrophe may have the edge here, but to get one and not the other would be like speed-reading through one of the most vital chapters in Zappa's musical development.
Next: 1974-1994…